I'm home!!! :-) I've missed you all so much!
New Zealand was
absolutely
wonderful...words cannot describe. I hope all of you have an opportunity to visit someday if you haven't already. We loved the mountains, plains, forests, caves, and...surprisingly...the food! I had heard that their food was nothing to write home about, but descriptions of our wonderful meals kept filling up our journal. I can't wait to reproduce a few dishes and share them with you in the next several weeks.
One reason I enjoyed New Zealand food so much is that they don't use high fructose corn syrup. I have a mild intolerance to fructose and have to avoid HFCS...so hard to do in the United States! I ate like a queen in New Zealand and enjoyed all kinds of foods that I've had to give up at home. How depressed I was to return home to be reminded that most holiday treats list HFCS as a primary ingredient, including one of my favorite holiday beverages...egg nog.
After having no luck finding HFCS-free egg nog in the grocery store, I set out to make my own.
Luckily, I found an excellent and easy recipe on
Tasty Kitchen
. I think it turned out wonderfully!
The ingredients list: 2 cups of milk, 1 cup heavy cream, 4 egg yolks, 1/2 cup sugar, 1/4 t. allspice, 1/2 t. cinnamon, 1/2 t. nutmeg.
First, whip the sugar and egg yolks in a blender until they turn a light yellow color.
Then, in a small saucepan, combine the remaining ingredients. I didn't happen to have ground allspice in my pantry, so I ended up dropping a few whole allspice in the mixture.
Bring the milk mixture to a boil and then remove from the heat. If you used whole allspice, don't forget to take it out!
Scoop out a few generous tablespoons of the hot milk mixture and pour into the blender
while
the egg yolks are blending. Blending the yolks while you do this is crucial!
Then pour the yolk mixture into the saucepan, whisking the whole time.
Cook over medium low and
keep whisking
until the mixture has thickened slightly.
Then, transfer to a container with a lid and refrigerate! Enjoy cold topped with a bit of freshly grated nutmeg.
Yum.
Egg Nog
Recipe taken from Tasty Kitchen
4 egg yolks
1/2 cup sugar
2 cups milk
1 cup heavy cream
1/4 t. ground allspice
1/2 t. ground cinnamon
1/2 t. ground nutmeg
Place the egg yolks and sugar in a blender and blend until the mixture turns light yellow. Meanwhile, heat the rest of the ingredients in a saucepan. Bring to a boil and then remove from the heat. Whisk a few generous tablespoonfuls into the yolks, and then whisk all of the yolk mixture into the milk. Heat over medium-low, whisking constantly, until the mixture slightly thickens. Transfer to a lidded container and refrigerate. Serve cold. Makes 6 servings.
Linked up with
Foodie Friday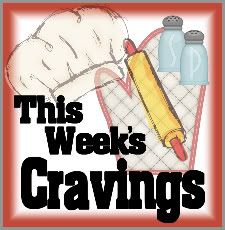 Holiday Beverages!
Yes, yes, I'm really late getting This Week's Cravings up, but better late than never!
This week we are focusing on holiday beverages. Check out the linked up recipes for fun drinks and foods with secret holiday beverage ingredients!