Valentine's Day is coming up soon, and in my mind that means one thing...
Chocolate!
Even though I always spend February battling the bulge that I have acquired over Christmas, I still love getting chocolate for Valentine's Day. So when it came time to do a post on Valentine's Day treats for this week's cravings, I had to pick something chocolate.
These cookies, affectionately known as chocolate crinkles around here, are moist, dense, and incredibly chocolatey. Their one vice? There's no way that you can "sneak" one...you can't eat them without getting covered in powdered sugar!
First, melt 4 squares of unsweetened baking chocolate in the microwave.
Try to resist dipping your finger into the chocolate for a taste. Why? A) it's way too hot, and B) it's unsweetened. All you'll end up with is a burned finger and a desperate need for sugar.
Trust me on this.
Add 1/2 cup oil and 2 cups sugar to the chocolate.
Mix them together...
...and then add 4 eggs, one at a time. Whisk well in between each egg.
Add 2 teaspoons of vanilla extract, and mix well.
In a separate bowl, mix 2 cups flour, 1/2 teaspoon salt, and 2 teaspoons baking powder.
Add the flour mixture to the chocolate mixture, and mix well. Chill for several hours.
After the dough has chilled, roll it into 1-inch balls. Roll the balls in powdered sugar until covered.
Place on a greased cookie sheet and bake at 350 degrees for 10-12 minutes.
When they are done, the tops will start to "crinkle."
These are
so
good and
so
easy...don't forget to lick the bowl!
Chocolate Crinkles
4 squares unsweeted chocolate, melted
1/2 cup vegetable oil
2 cups sugar
4 eggs
2 t. vanilla
2 cups flour
1/2 t. salt
2 t. baking powder
powdered sugar to roll cookie dough in
Mix oil, chocolate, and sugar. Blend in 1 egg at a time until mixed. Add vanilla. In a separate bowl, combine salt, flour, and baking powder; add to mixture. Chill for several hours. Shape tablespoon of dough into ball and roll around in powdered sugar until covered. Place 2 inches apart on greased baking sheet. Bake at 350 degrees for 10-12 minutes. Makes about 2 1/2 dozen.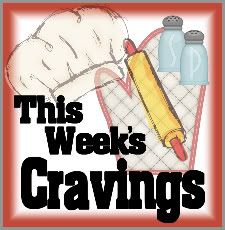 Valentine's Day Treats
This Week's Cravings is all about Valentine's Day! Whether it's chocolate or candy hearts, be sure to post your favorite Valentine's Day treats here.