Apparently it's sweet potato month...
who knew?
I love sweet potatoes. They are high in fiber, vitamin A, vitamin C, vitamin E, iron, and calcium...and, of course, they taste amazing. What's not to love?
One of my favorite sweet potato recipes comes from Gooseberry Patch's Christmas Book 3. These aren't exactly low calorie, but they taste absolutely amazing! They can be made with either sweet potatoes or their oft-confused cousin, the yam.
I chose sweet potatoes.
Peel 3 pounds of sweet potatoes and then boil until tender. Once they have cooled, cut into 1/4 inch slices. Arrange them in a greased baking dish so that they are slightly overlapping.
Meanwhile, melt 1/4 cup butter in a small saucepan...
yum
. Then add 3 tablespoons of orange juice, 1/4 cup brown sugar, 1 tablespoon vanilla, 1 teaspoon salt, 1 teaspoon orange zest, and 1/4 teaspoon pepper.
Oh yum!
Mix well and then pour over the top of the potatoes.
Sprinkle the tops with 1/2 cup chopped pecans...gotta have the crunch! The Gooseberry Patch recipe has you add the pecans after baking, but I love that toasted pecan flavor. If you add them before baking, just make sure that they don't burn!
Broil 6-7 minutes or until heated...serve warm!
Vanilla-Glazed Sweet Potatoes
from Gooseberry Patch Christmas 3
3 lbs. sweet potatoes, peeled
1/4 cup butter
1/4 cup brown sugar, packed
3 T. orange juice
1 T. vanilla extract
1 t. salt
1 t. orange zest
1/4 t. pepper
1/2 cup chopped pecans
Boil sweet potatoes in water until tender; drain. Cool slightly, then cut into 1/4 inch slices. Arrange the slices in a greased, broiler-proof 13"x9" baking dish, overlapping slightly. In a small saucepan, melt butter over low heat. Add brown sugar, orange juice, vanilla, salt, orange zest and pepper, stirring until combined. Heat, but do not allow to boil. Remove from heat and brush sauce evenly over potato slices. Broil 6 inches from heat until golden, about 6 or 7 minutes. Sprinkle with pecans. Serves 6.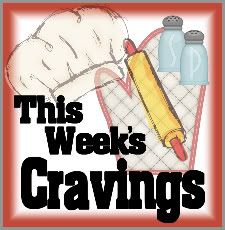 Potatoes and Sweet Potatoes
This Week's Cravings is about everything potato! Link up your favorite potato and sweet potato recipes - I can't wait to see what you come up with. :-)