These are definitely "adult" cheesecakes.
:-) Delicately laced with liqueur, these have a fabulous yet subtle flavor that is especially enhanced when drizzled with
dark chocolate sauce
. They are the perfect individual desserts for your next gathering!
I can't take credit for the idea...I found a recipe for Baby Grand Marnier Cheesecakes over at Tasty Kitchen and just had to try them. I modified the recipe a bit by halving it and using currant liqueur instead of grand marnier.
Here are my reflections on the process.
The recipe seems complicated, but it's not. I was pleasantly surprised at how easy it was. You start out by preheating the oven
with
a plain old empty cake pan on the bottom rack.
While the oven is preheating, you whip up the cheesecake filling. I dumped all ingredients in my blender and just let 'er rip. I was especially excited about the prospect of using my currant liqueur. I've been thinking about what other flavors would taste good...maybe cherry cordial? thick wine like Madeira? Yum!
You also need to mix up the crust. This is a great job for a child...or a husband. :-)
Press the crumb crust into the bottom of your muffin pan. Silicone pans really work well here because the finished product just pops right out.
Then you fill up the muffin tins with your filling. I admit that I actually filled too many! I thought perhaps the filling would expand, but it didn't. I'm wishing I had made fewer cheesecakes with more filling...just an afterthought.
When they are ready to go in the oven, pour a kettle of boiling water into that preheated pan. Then, put the cheesecakes on the middle rack in the oven. They only need to bake for about 15-20 minutes, and then they'll need to set in the refrigerator for about 6 hours.
I was a bit skeptical of the finished product, but after one taste I was hooked! These are such a cute dessert, and they keep my portion size small (a major plus). The addition of chocolate sauce and berries just put them over the top. And did I mention that you can just freeze leftovers and bust them out when you have a special occasion?
You should go check out the original recipe. You can get a printable
here on Tasty Kitchen
, but go check out
the original blog post
as well. This blogger makes cheesecakes professionally and provides lots of tricks of the trade. She's also just got a beautiful blog!
Go there...get the recipe...make cheesecake...eat...enjoy.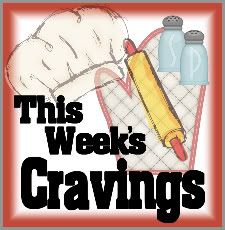 Easter Cookies and Goodies
Link up your Easter dessert recipes here!
And don't forget to check out my co-hosts, Kristen at
From My Tiny Kitchen
and Tina at
Mom's Crazy Cooking
!