We have a Fourth of July tradition in my family. Every year, we make a batch of my mom's delicious homemade ice cream, pack it in an ice chest along with brownies and other deliciousness, and then enjoy our sugar rush while watching the town's fireworks show.
I love traditions.
I've featured homemade ice creams on this site before, but those are a bit different. They are made custard-style, so they end up with that delicious smooth and creamy texture that you find in the best store-bought ice creams.
Mom's ice cream is the traditional kind - that irreplaceable, only-can-be-made-at-home ice cream.
It's delicious!
It requires very few ingredients - whipping cream, eggs (or egg substitute), sugar, vanilla, and milk. We used egg substitute since it has been pasteurized, just to be on the safe side.
This is my mom putting the eggs, sugar, and vanilla in a blender. :)
Hi mom!
Blend the eggs, sugar, and vanilla until smooth.
Then, add the whipping cream and blend until mixed (just don't blend too much...you'll make butter!)
It should be nice and smooth...
Pour the cream mixture into a 4-quart ice cream maker and then add milk until the mixture reaches the fill line in the ice cream maker.
Now...if you are like my sister and like your ice cream plain, you can just stop there.
If you are like me (and I'm ALWAYS right...ask my husband), then you know that homemade ice cream is always better with Butterfinger mixed in!
I crushed up Butterfinger with a strange contraption my mom had in her kitchen drawer - it looked like a giant version of something you'd find in a dentist's office! I just love searching through Mom's drawers...you never know what you'll find.
I mixed the crushed Butterfinger into the ice cream and
voila
~ perfection!
But, since my sister was also visiting home, I felt it was only fair to leave her some plain homemade ice cream. I felt festive and decorated her bowl for the Fourth of July.
Mmmmmmmmmm....no matter how you serve it,
this ice cream is good!
Traditional Homemade Ice Cream
6 eggs (or the equivalent of egg substitute)
2 cups sugar
1 t. vanilla
1/2 pint whipping cream
milk (approximately 2 quarts)
Blend the eggs, sugar, and vanilla in a blender. Add the whipping cream and blend until smooth. Pour into a 4-quart ice cream maker, and then add enough milk to bring mixture to the fill line. Freeze according to ice cream maker instructions.
(If you're cool, add Butterfinger.)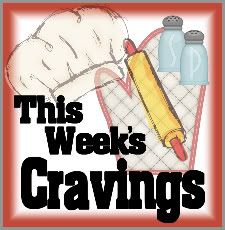 Red, White, and Blue!
Link up your favorite Fourth of July themed recipes here!