Memorial Day.
It's not just about sunshine, beaches, or fishing on a lake. It's not just about grilling or barbecuing or stuffing ourselves silly with potato salad. It's not just about having a day off of work.
It's about gratefully remembering and honoring those who have served, are serving, or will serve our nation...thank you for what you do.
Hopefully you get to spend some time today with a veteran or someone currently in the service. Cookie Bandit and I are delighted to be heading over to some friends' house for a cookout. He is serving the Air Force as a surgeon, and she is a pilot in the Reserves (amazing people!)...they also gave us this fabulous
recipe for pico de gallo
. :)
No matter what you are doing today, you are probably eating (and most likely with friends), so here's an easy dish to bring. It's Cookie Bandit's specialty, actually! The one, the only,
classic deviled eggs.
And don't forget to check out This Week's Cravings below for some other great ideas for Memorial Day BBQs and cookouts (YES, there
is
a difference!) - be sure to link up your own!
Deviled Eggs
6 eggs
1/4 cup mayonnaise or Miracle Whip
1 t. mustard
1/2 t. white vinegar
1/4 t. salt
white pepper to taste
paprika
Hard boil the eggs. Cool eggs under running cold water 5 to 10 minutes. Peel shells from the eggs. Cut eggs in half lengthwise. Remove yolks into a bowl. Mash yolks with remaining ingredients except paprika until mixture is smooth. Fill whites with this mixture; sprinkle with paprika.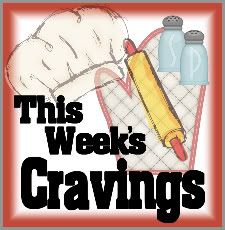 Memorial Day Cookouts and BBQs!